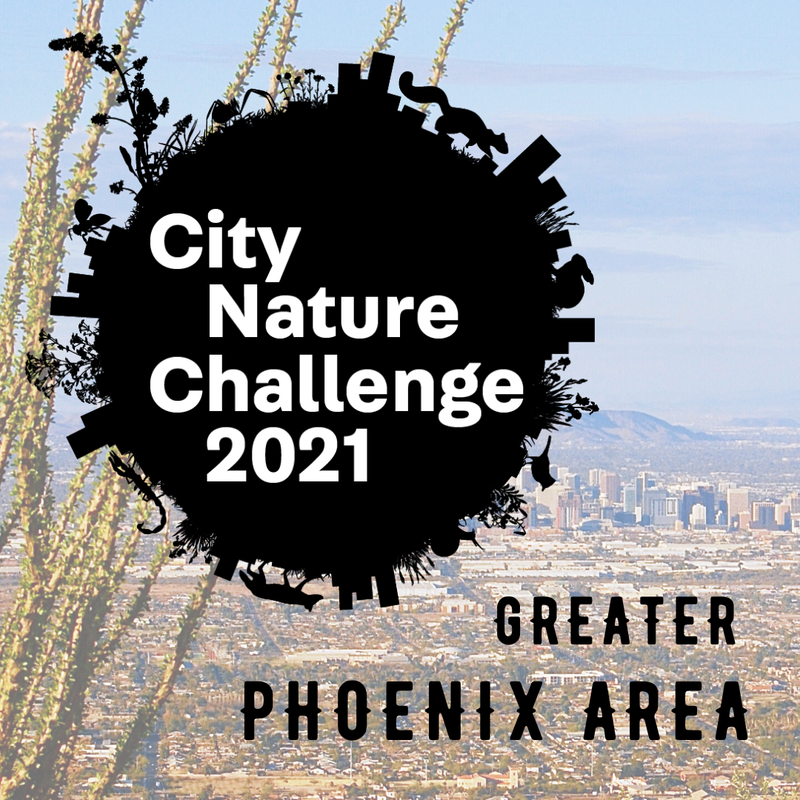 Have you heard? April 30 through May 3, the Greater Phoenix Area will participate in the 2021 City Nature Challenge. This is a global effort to observe and document as much urban biodiversity as possible while engaging in community science. Using iNaturalist, anyone can get involved and share observations, anywhere from neighborhoods to local parks. Over 300 cities around the globe participate in this event and every year it gets bigger. This is the first year the Greater Phoenix Area will be part of the international challenge and it is co-organized by the Metro Phoenix EcoFlora, City of Chandler-Community Services and Educating Children Outdoors. We also have many great collaborators joining in on the fun. This is an important event for our state and will highlight the amazing biodiversity we have in the Sonoran Desert. Let's show the world that our desert is not a barren wasteland!
If you are not able to get out and make observations, you're outside of the Greater Phoenix Area, or you enjoy the challenge of identifying species more, you can help identify observations on iNaturalist from May 4-9.
Our neighbors in Greater Tucson and Albuquerque are also participating and we will be in a friendly competition together. Winner gets bragging rights! We are super supportive of one another, after all we are both interested in the same goals.
Results of the challenge will be announced on May 10!
There will be prizes given for the most observations made, most species observed and for the top identifier in our area!
Happenings will be added throughout the month of April, so be sure to check the website for the latest updates on webinars, events and trainings. Visit our website.
Click here to join the challenge.
Interested in collaborating with us? Please email greaterphxcnc@googlegroups.com.
While practicing social distancing, wearing a mask and following recommended safety guidelines, the 2021 City Nature Challenge is a great way to spend time and destress while learning about urban biodiversity. Learn more at citynaturechallenge.org/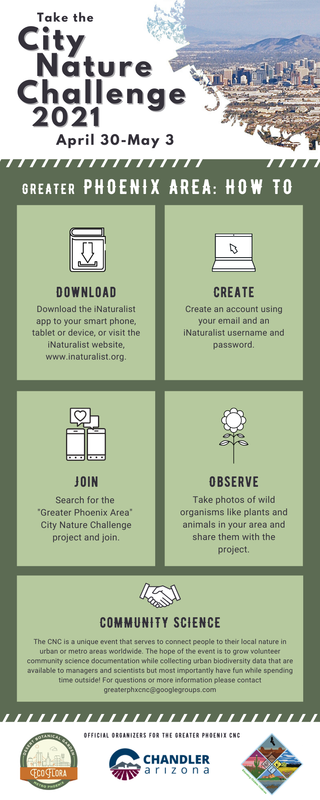 Publicado por

jenydavis
, 13 de abril de 2021