Join the May EcoQuest: Up In Flames.
Find and map as many wildfire fueling invasive plants as possible.
Wildfires are getting bigger, burning hotter and happening more frequently. One of the contributing factors for this is invasive plant species that provide fuel for fire. Observations from this EcoQuest can help map these invasives and contribute to the efforts of Desert Defenders.

Join the EcoQuest
Desert Invaders Guide
---
This month's EcoQuest is in collaboration with Desert Defenders.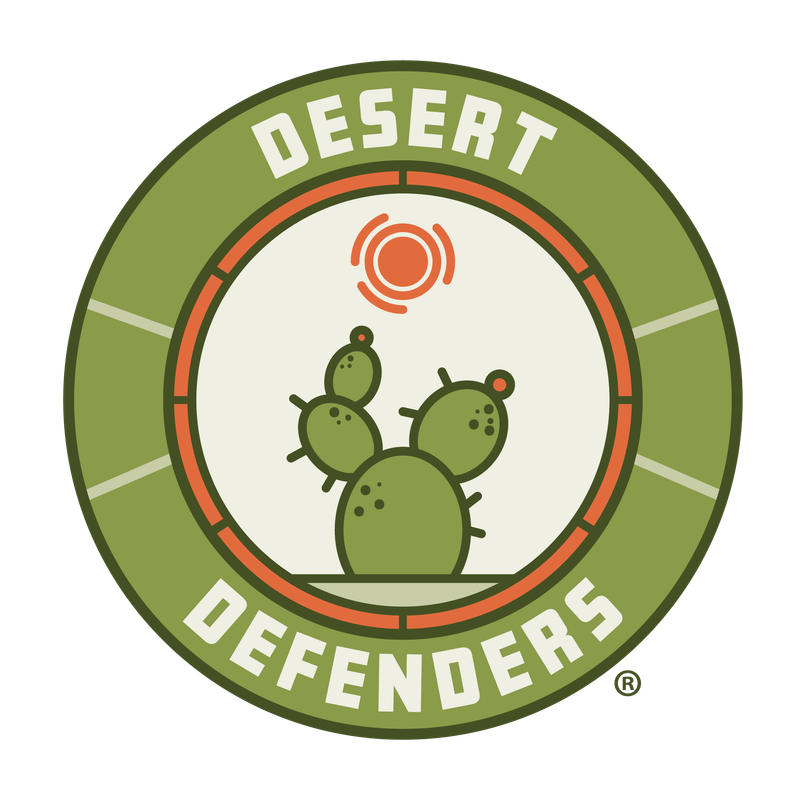 Desert Defenders is a citizen science program focused on finding, mapping and removing invasive species at local parks and preserves. The plant species they focus on are known to have a moderate to severe impact on local ecosystems and communities.
Learn more about and join Desert Defenders
Desert Defenders on iNaturalist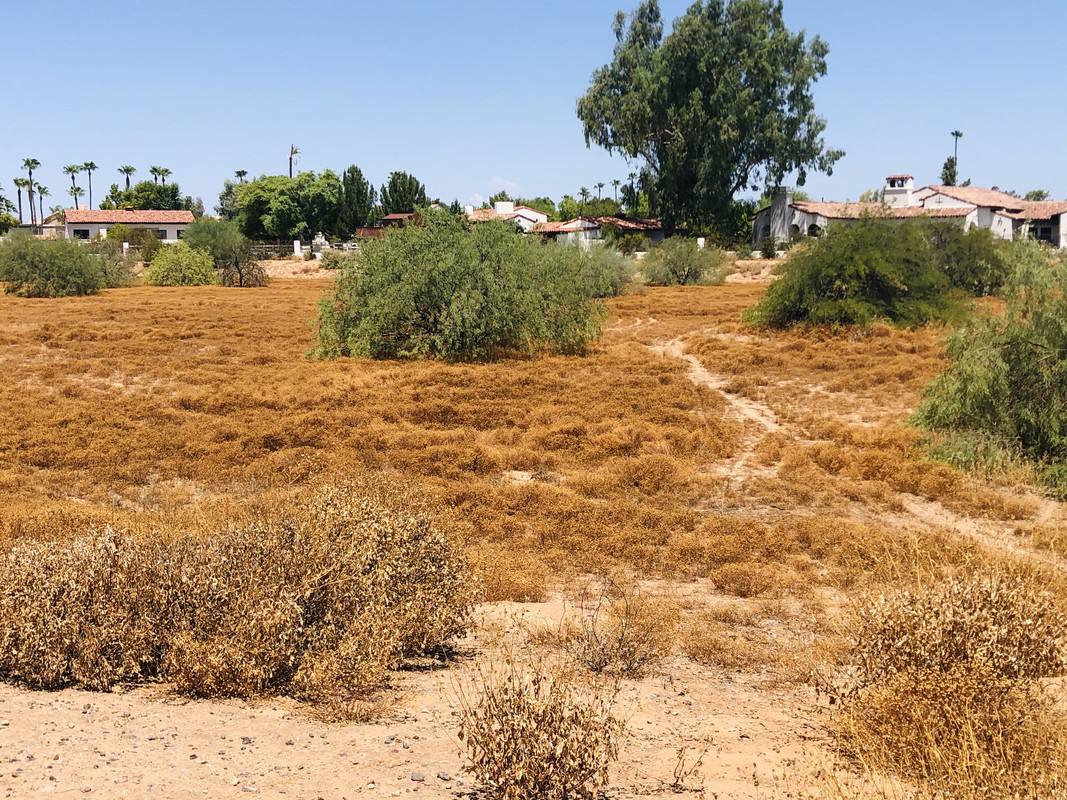 Stinknet near homes in a neighborhood.
To the best of current scientific understanding, natural fires have not historically been a significant part of the Sonoran Desert. Compounding factors such as climate change, invasive species, and a rise in outdoor recreation have contributed to an increase in major fires here in the Sonoran Desert. These larger, and often hotter fires that are happening closer together in time, do not play well with a desert that is not adapted for it. Recovery after fire for the Sonoran Desert is estimated at 65+ years, and iconic species like the saguaro may not return to the burned area. Sonoran Desert that has been severely impacted by fire has the potential to shift to a very different landscape than what we know now, especially with repeated incidence of fire.
Some fires may have naturally occurred in the past, but the spacing of plants in the desert had prevented wildfire from spreading and having an extensive impact. Invasive plants are capable of rapid reproduction and displacement of native plants through competition for space and resources. They are most often introduced to the landscape and do not have the natural constraints of where they naturally grow to keep their populations in check. These plants are a main source of fuel for wildfires. They dominate the desert landscape and are filling in the open space that historically existed between desert plants. Now, when a fire starts in the Sonoran Desert, instead of burning a small patch of vegetation and then burning out, the fire can "run" because all of these plant patches are interwoven in a fabric of invasive species and increased annual vegetation growth. These plants can also alter the fire regime, the pattern of fires over time, by increasing fire frequency and intensity. Some of these plant species also benefit from fire and can move in quickly after a fire has occurred.
These plants are also fueling fires in urban areas. In 2020, there were numerous wildfires close to homes and neighborhoods, even in densely populated urban areas. Homes and structures were lost. Stinknet (Oncosiphon piluliferum) can be found growing very close to homes and even along the sidewalk at Tempe Town Lake. Salt cedar (Tamarix spp.) was a major fuel for the Avondale Fire, which burned nearly 1,000 acres. Invasive species pose a risk not only to wild places, but also the places where we live.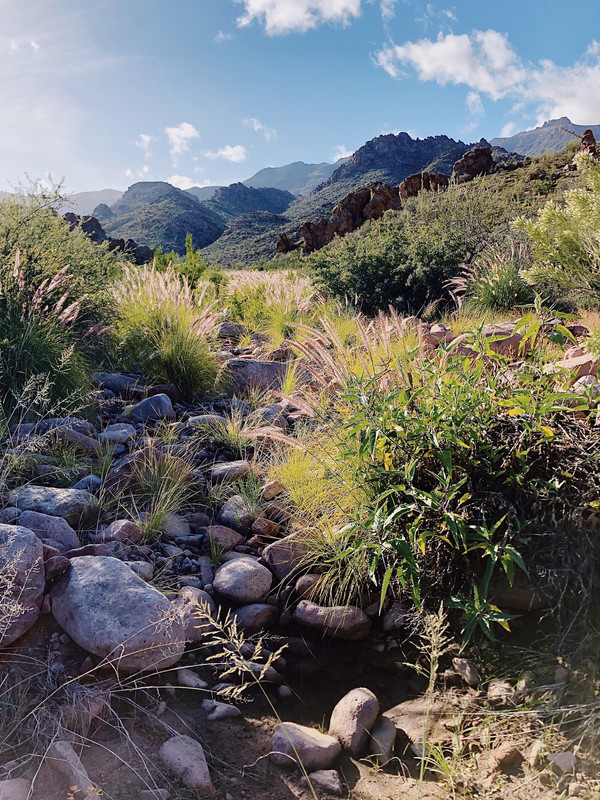 Fountain Grass in the Superstition Wilderness.
---
Observing and mapping these fire fueling invasive species can help us locate populations, raise awareness, make management plans and contribute to the efforts of Desert Defenders.
---

Stinknet at Tempe Town Lake.
WHAT TO OBSERVE:
In order to best plan for and manage these invasive plants, we need to know where they are. If there are a lot of plants in one area, you can observe each plant individually or observe one and accompany it with a "note" estimating how many are in the area. Also include an image showing the overall site. Individual observations are preferred, but we understand that can be a daunting task! One observation is better than no observation. Be sure to take multiple photos of the plants, including leaves, flowers, stems, and the overall plant itself.
Species to observe:
Fountain grass (Cenchrus setaceus)
Saharan mustard (Brassica tournefortii)
Tamarisks (Tamarix spp.)
Stinknet (Oncosiphon pilulifer)
Buffelgrass (Cenchrus ciliaris)
Common Mediterranean grass (Schismus barbatus)
Red brome (Bromus rubens)
London Rocket (Sisymbrium irio)
Common sow thistle (Sonchus oleraceus)
Malta star thistle (Centaurea melitensis)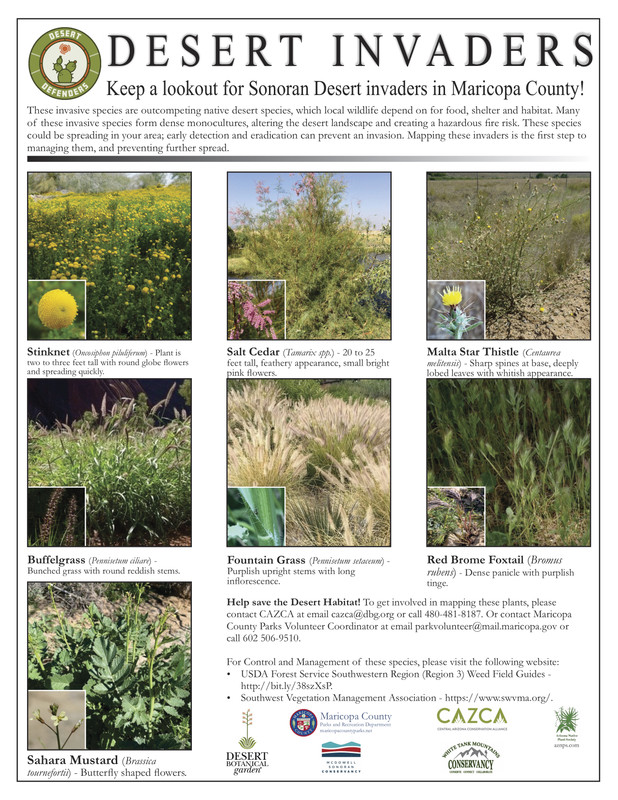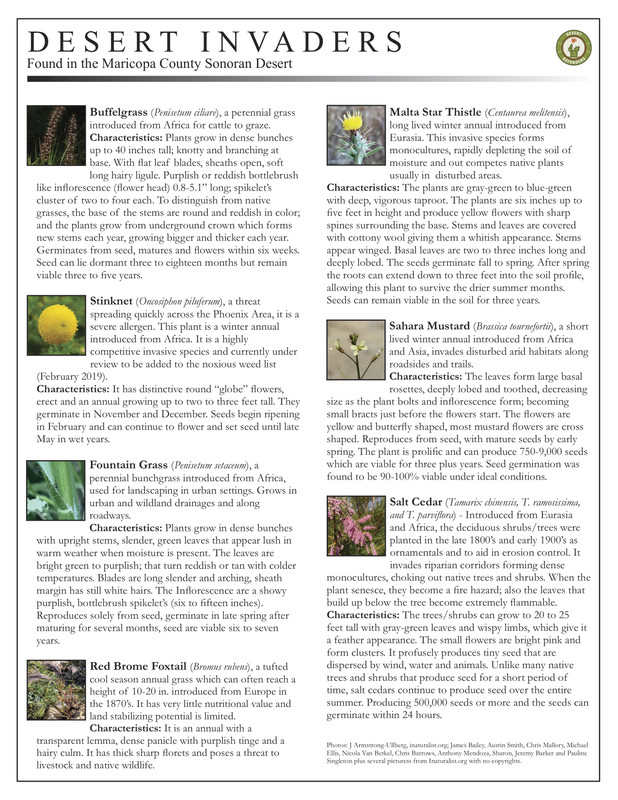 ---
Sources and more information:
Kara Barron (pg. 20), Gila Watershed Partnership
CAZCA and Desert Defenders
Arizona Native Plant Society
PNAS
American Institute of Biological Sciences
National Geographic
---
---
---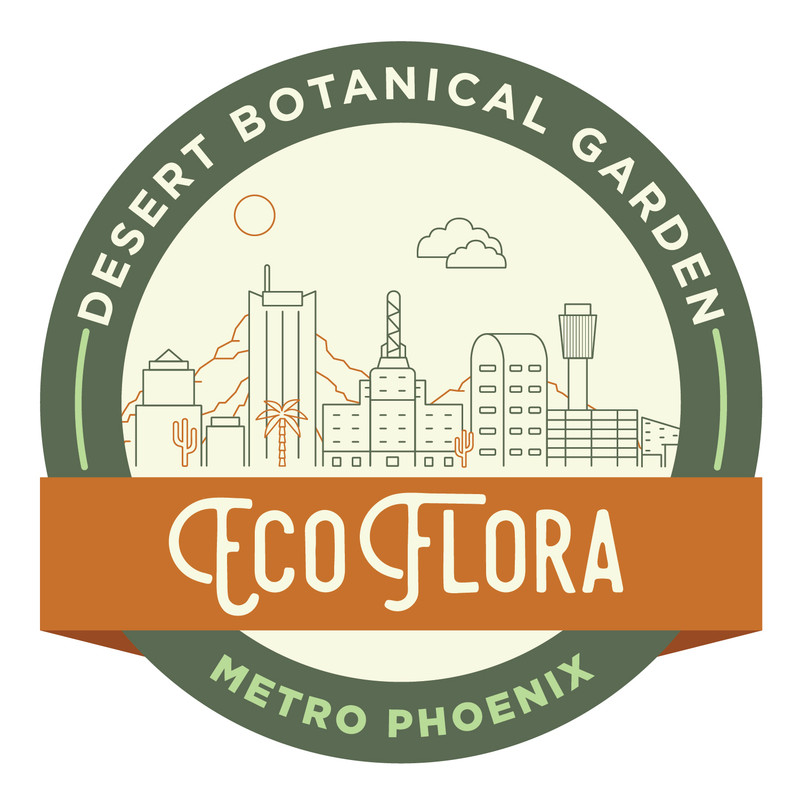 EcoQuests are month-long challenges that are part of the larger Metro Phoenix EcoFlora project.
You can learn more and join the Metro Phoenix EcoFlora here:
https://www.inaturalist.org/projects/metro-phoenix-ecoflora
Sign up for the newsletter at ecofloraphx@dbg.org.
Let's be social @ecofloraphx


PLEASE observe COVID-19 guidelines/recommendations.
This a great opportunity to get outdoors close to home as we all navigate the complications of COVID-19. However, it is imperative that you follow the guidelines/recommendations of your local governments and institutions (wear a mask, practice physical distancing and wash your hands). Do what's best for you and your community.
Arizona Office of Tourism: Responsible Recreation in AZ
https://tourism.az.gov/responsible-recreation-across-arizona
Please do not observe indoor houseplants or pets.
For your own safety and the protection of plants and wildlife, do not trespass when making observations. Please follow all posted rules and guidelines in parks/preserves and do not enter private property.
Do not remove or move natural materials (plants, animals, rocks).
Respect wildlife (do not touch, feed, or disturb animals and keep a safe distance).
Publicado por

jenydavis
, 30 de abril de 2021